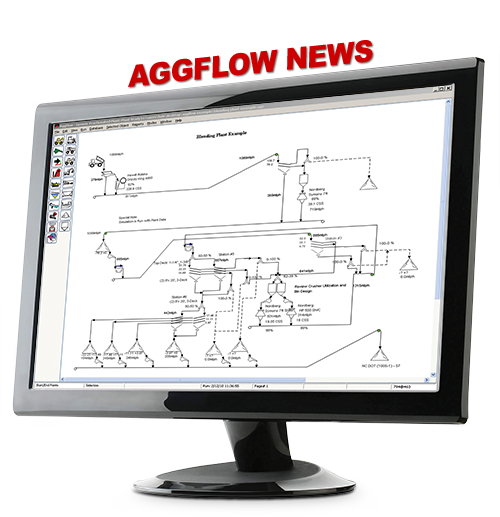 A new update for the AggFlow USB program has been released that brings the USB program to the same level as AggFlow DM. This update maintains the offline and worksheet design approach of the classic USB program to allow users to continue working from their computer files. With this latest release all AggFlow users will have the same program and the same equipment without file compatibility issues. Users can either take advantage of DM's control panel features, or they can continue to use the program as before with individual files and worksheets for each simulation.
Single Startup Window
Startup window that includes username and password to ensure your license is matched to your account. Users can access the AggFlow DM control panel, or can choose to bypass the panel and open a worksheet directly. Desktop startup icon for USB program or DM program will start the same program, either icon can be used.
Launch AggFlow DM
Go direct to the AggFlow DM control panel, access all your projects and perform Online Collaboration/Sharing of projects with other licensed and non-licensed users.
Worksheet Only
Allows Design users with USB key to bypass the AggFlow Control Panel should they want a more classic AggFlow interface (using the Control Panel is highly recommended to organize projects and ensure online backup of projects)
Offline Use
Ability for design users to Work Offline with USB key from the login panel with "Launch AggFlow DM" or with "Worksheet Only" to avoid blocked or unreliable internet concerns. (Disables the internet enabled features in AggFlow DM such as Online Collaboration/Sharing and Secure Backup to the AggFlow Cloud). USB keys allow offline use for 21 days starting from the first time a worksheet is opened with edit capability, following which a refresh is required.
Single Program Benefits
Open, share and work with all AggFlow Projects (files) for all users
One download and installation for AggFlow
All current and future updates will be available to all users
All new equipment added to AggFlowDM will be available to all users
Access to your AggFlow account directly from the program
Each users license is protected with your email and unique password
Faster response to questions and support with a single program
Online help system for the single program and worksheet
Important Features with Launching AggFlow DM
All of your projects in one place via the AggFlow Control Panel
Securely share and collaborate on files with coworkers and clients
Track changes to projects and revert back to a previous revision
Never lose your data, with free secure Cloud Storage in addition to your local database
USB dongle no longer required (except for using offline and Worksheet Only options)
Drag and drop your computer saved files onto the AggFlow DM control panel for instant access and sharing.
Logical organization of wash equipment with improved calculations**
Important Features with Worksheet Only
Requires USB key connected to computer
Requires current user license
A worksheet must be open to use double click for opening files to the worksheet
21 day offline use with key starts from first time worksheet is opened when offline, key refresh is done automatically when internet is available and worksheet is opened with edit capability.
There is no charge to update the AggFlow Program for existing licensed USB users. Once the username and password has been created online, AggFlow is ready to use. Use this link to download and install AggFlow.
http://aggflow.com/installAggFlowDM.exe