The initial concept for AggFlow was born in 1989, after BedRock Software founder and president Bryan R. Lewis, realized that manual plant flow calculations were time-consuming and inefficient, and that simple mistakes could often lead to costly production errors. Mr. Lewis understood that knowing exactly what was happening at any point in the flow process was critical to the overall production and profitability of any aggregates operation. After several years of research and development, including live operation testing, Mr. Lewis brought the AggFlow program to fruition in 1993. From its inception, AggFlow has been known as the global standard in plant flow simulation. Today, AggFlow is used by thousands of aggregate experts worldwide.
Over the years, AggFlow has received numerous advancements.
1996 – The AggFlow program gains specifications for many major manufacturers and models of crushing equipment around the world.
1999 – The addition of sample buckets allows users to introduce actual field data into their plant flows.
2002 – With the ability to add washing equipment, AggFlow users can model every processing stage within their plants.
2004 – Internet capability with the program allows users to receive updates via the Web. An expanding equipment library and faster calculations also improve the software.
2006 – Automatic monthly updates and license renewal entitle users with current licenses to every aspect of the program and full program releases free of additional charge.
2007 – New operating manual is embedded in the program under the HELP menu. "Help" button in working menus takes the user directly to the appropriate page.
2008 – The addition of Mass Aggregate Balance and Mass Water Balance calculations allows users to optimize layouts and maximize production of desired products.
2008 – French and Spanish translations of the AggFlow program bolster international distribution and customize the program for users around the globe.
2009 – AggFlow gains track-mounted (mobile) equipment simulation capability.
2010 – BedRock Software releases AggFlowSite, delivering the full functionality and power of the traditional AggFlow program via the Internet.
2014 – AggFlow and AggFlowSite become AggFlow DM (Design and Manage), with secure online data storage and two separate product offerings.
2016 – AggFlow DM and USB program are combined into a single program with a common worksheet accessable from the login window, bringing all the latest updates to the USB program type users.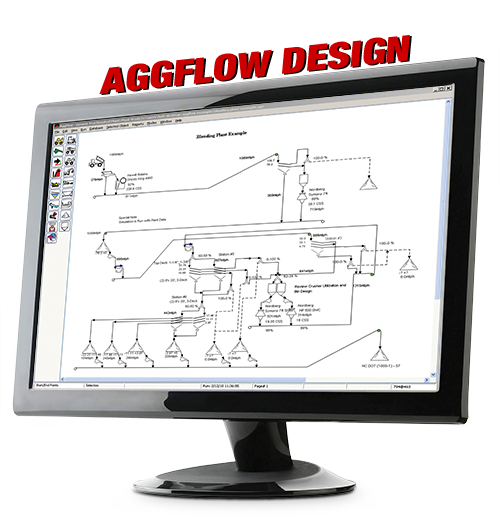 AggFlow DM (Design and Manage)
AggFlow DM is the latest version of AggFlow. While it still is a software program that must be installed on the computer, it now employs secure online data storage, eliminating the need for a hardware USB key during online use. AggFlow DM itself offers two separate licensing options. AggFlow Design license is for the original AggFlow use, and it continues to provide plant design assistance for equipment suppliers, engineers and producers. Design users can hold a Design license, and can create an unlimited number of design projects. AggFlow Manage Project license replaces the former AggFlowSite program and license, allowing customers to buy individual project licenses and invite unlimited number of users per project license to access that project. Both sides of AggFlow DM store work on BedRock Software's secure servers, allowing easy access and sharing through a simple, protected login process.
Alongside the launch of AggFlow DM is the simultaneous launch of Production Scheduler, a new module for AggFlow Manage. Production Scheduler provides producers – at the plant manager level – with a definitive, yet simple method to directly tie production into sales forecasts. Once an accurate plant model is in place via AggFlow Manage, Production Scheduler allows the plant manager to use simulated production scenarios to quickly and automatically create production schedules based on forecast sales and commitments. Operations produce what they need for when they need it, identify shortfalls and minimize waste.
And to help producers get the best use out of their AggFlow software, AggFlow is fully supported by independent Certified AggFlow Consultants. These AggFlow specialists are in place to work with producers on a fee-paid basis to build an accurate plant model with enhanced operational modes, and then train the producers to use the software for production scheduling. Available at any time for additional support, the AggFlow Consultants ensure that producers are proficient in using AggFlow as a profit-building tool.
About the President and Founder of BedRock Software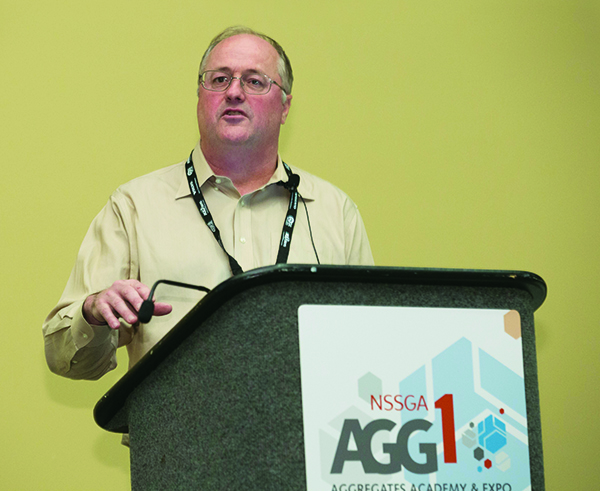 Bryan Lewis holds a Bachelor's degree and a Master's degree in Nuclear Engineering from Oregon State University. He has worked as an engineer for Portland General Electric, where he performed safety analysis for the Trojan Nuclear Power Plant, and for Impell Corporation, where he analyzed nuclear power plants in the U.S. and the United Kingdom. He also served as the Senior Nuclear Engineer in the Space Power Division at General Atomics before founding Bedrock Software. In addition to the creation of AggFlow, through his own company, Mr. Lewis has provided space reactor design software for the U.S. Air Force and developed the Research Reactor Analysis Program for reactors at OSU, the University of Illinois, MIT, the University of Wisconsin and the U.S. Geological Survey.